Hyderabadi Biriyani (Restaurant Style).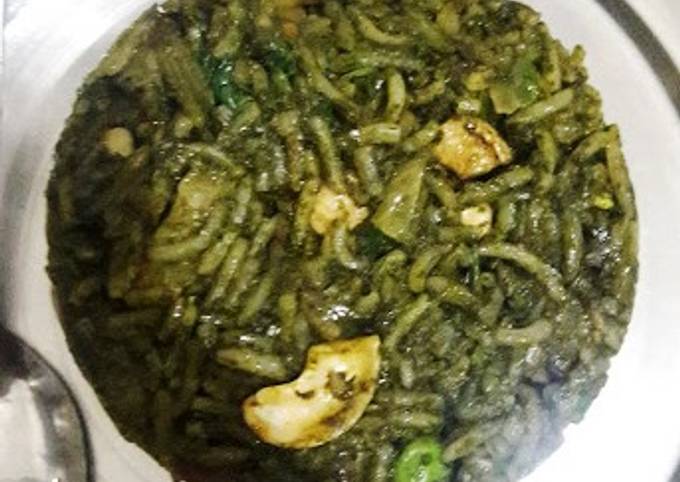 You can have Hyderabadi Biriyani (Restaurant Style) using 3 ingredients and 5 steps. Here is how you cook that.
Ingredients of Hyderabadi Biriyani (Restaurant Style)
Prepare 2-3 cup of basmati rice, a bunch of spinach, 3 big onions, 2 big tomatoes, 1 capsicum, half cut cauliflower, 1 carrot.
Prepare 2 tsp of Ginger Garlic paste, 2 badi ilaychi, 3-4 cloves, 4-5 whole black pepper, spices, garam masala and salt as per needed taste.
You need 5 tsp of Cow Ghee/Amul Butter, 1 tsp cumin seeds(Jeera), 1 piece small cinamon, 2-3 bay leaves (Tej patta).
Hyderabadi Biriyani (Restaurant Style) step by step
Soak the rice for half hour and cook it. Cut the cauliflower into 1 inch by hands. Finely chop 2 onions and 2 tomatoes. Chop the remaining capsicum and onion into 1 inch size. Cut the spinach. Cut carrot into half inch pieces..
Boil the spinach till its dark green and blend it to make a thick gravy/paste. Boil green peas, carrot and cauliflower and cook them half separately..
In a Pan/Wok, heat the ghee/butter. Add jeera, cinamon, black pepper and cloves into it and saute them till they leave their aroma. Add chopped onions and saute till transparent. Add now chopped tomatoes and saute till pulpy. Add now Ginger-garlic paste and saute for 5 minutes. Add the masalas and salt & mix well..
Add now half cooked green peas, carrot and cauliflower, mix well. Add Spinach gravy & 1 inch cut onion and capsicum(you can add also water half a cup around to adjust the consistency). Cover with a lid and let it cook for 15-20 minutes around. When ghee/butter leaves the surfaces, add now cooked rice and mix well. This whole will look like this in the pic..
Garnish with roasted cashews, chopped spring onion and coriander leaves. Serve hot :).