Hyderabadi Veg Biryani.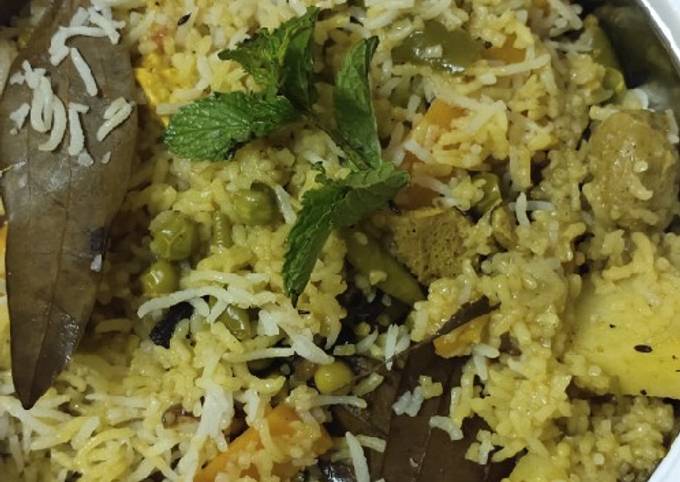 You can have Hyderabadi Veg Biryani using 29 ingredients and 12 steps. Here is how you achieve it.
Ingredients of Hyderabadi Veg Biryani
Prepare 1 glass of rice.
You need 8 cups of Water.
You need 2 of bay leaves.
It's 1 inch of Cinnamon stick.
Prepare 1 tsp of Cumin seeds.
It's 4-5 of cloves.
It's As per taste of black pepper.
Prepare 2 of cardamoms.
It's As required of Oil.
It's As per taste of Salt.
It's As required of Ghee.
It's 1 of onion finely chopped.
You need 1 tbsp of Ginger garlic paste.
It's 2 of carrots.
It's 150 gms of cheese.
Prepare 2 of potatoes.
Prepare 50 gms of Soya beans.
It's 1 cup of peas.
You need 1 of capsicum.
It's 2 of green chillies.
You need 1 cup of curd.
It's 1 tsp of red chilli powder.
It's 1 tsp of Turmeric powder.
You need 2 tsp of biryani masala.
You need Few of Mint leaves.
You need As required of Coriander leaves.
Prepare For of Baristta–.
It's 2 of onions.
Prepare As required of Oil for frying.
Hyderabadi Veg Biryani step by step
Take 1 glass of rice and wash it and soak it for 30 minutes.
Now for baristta, add oil in wok and fry onion till golden brown.
Now after 30 minutes, take 8 glass of water in a pan and add spices 1 bay leaf, 1 cardamom, 1/2 inch cinnamon, 2-3 cloves, 4-5 black pepper, add 2 tsp oil and salt as per taste. Now boil this water and now add soaked rice into it and boil it for 15 minutes..
After 15 minutes, rice almost cooked not full cooked now strain these rice.
Now take a wok and add 1 tsp oil and 1 tsp ghee and then add 1 bay leaf, 1 cardamom, cumin seeds, 2 cloves and saute for 1 minute and becomes aromat..
After this add chopped onions and saute it for 2 minutes and then add ginger garlic paste into it and cook for 2 minutes and then add all the vegetables.
After saute it for 2 minutes add soya beans, cheese and curd into it..
Now add spices salt, turmeric, biryani masala, red chilli powder and mix it well..
Now cook it for 2 minutes and then add water 1 cup and boil it for 15 minutes..
Now it is almost cooked and now lets start making layers in pressure cooker.. 1 layer of vegetables and then add 2nd layer of rice and add coriander leaves, mint leaves and baristta and 1 tsp ghee..
Now third layer of vegetables and fourthblayer of rice and put over baristta, mint leaves, coriander leaves and 1 tsp ghee.Now close the lid of pressure cooker and cook it on low flame for 15 minutes.
After 15 minutes let it cool down and it is ready to serve..