Hyderabadi Mutton Dum Biryani.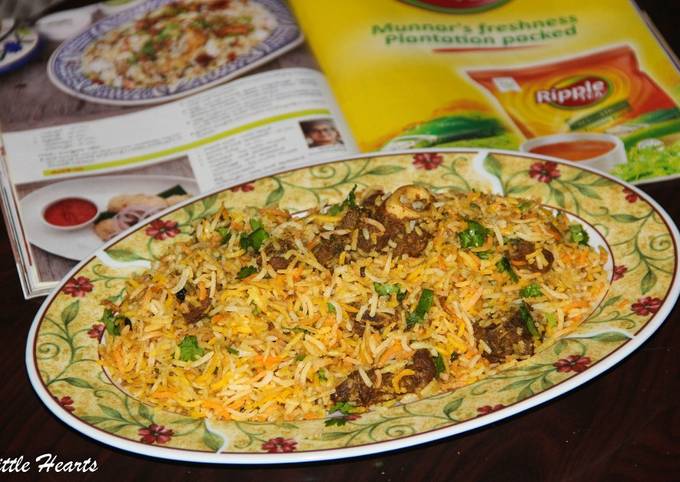 You can have Hyderabadi Mutton Dum Biryani using 23 ingredients and 5 steps. Here is how you achieve that.
Ingredients of Hyderabadi Mutton Dum Biryani
You need 1 kg, cut into medium size pieces of Mutton –.
Prepare 1 kg of Basmati rice –.
It's 4, coarsely ground into paste of Onions –.
It's 2 tbsp of Ginger-garlic paste –.
It's 5, slit lengthwise of Green chilies.
You need 2 of Bay leaves.
You need 5 of Cardamoms.
It's 8 of Black peppercorns.
It's 4 of Cloves-.
You need 2 of Star anise.
It's 1/4 tsp of Nutmeg powder.
It's 2 of Mace.
It's 1/2″ of Cinnamon stick.
It's 1/2 cup of Freshly grated coconut.
Prepare 1 tsp of Turmeric powder.
You need 3 tbsp of Coriander powder.
It's 1 cup of Curd.
Prepare of Mint leaves- A small bunch, finely chopped.
It's of Coriander leaves – A small bunch, finely chopped.
You need 2 tbsp of Lemon juice.
It's As needed of Ghee/clarified butter.
Prepare To taste of Salt.
You need As needed of Oil.
Hyderabadi Mutton Dum Biryani instructions
Clean, wash, and drain the mutton pieces. Marinate the mutton with turmeric powder and salt. Leave it aside for 15-20 mins. Heat oil in a heavy bottomed pan. Add the whole spices and allow it to splutter. Add the ginger-garlic paste and saute well. Add the onion paste and fry until it changes colour and the raw smell goes off..
Add the marinated mutton along with the green chilies, curd, grated coconut, and salt. Mix well and cover with a lid. Cook for 20-30 mins until the mutton becomes tender. Add half of the chopped mint and coriander, mix well, and cook for another 10 mins until the mutton is done. Add the coriander powder and mix well. Fry for 10-12 mins until the oil starts to ooze from the sides of the pan. Remove from flame and keep it aside..
Soak the rice at least 30 mins before cooking. Boil 2 cups of water in a large vessel. Once the water begins to boil, add 1 tbsp of lemon juice, 1 tbsp ghee, and salt and mix well. Add the soaked rice and cook till the rice is 3/4th cooked. Remove from flame and drain the rice through a strainer and keep it aside..
Place a thick flat iron tawa on medium heat. Place a thick bottomed vessel over the heated tawa. Drizzle curd all over the bottom of the vessel. Layer the prepared mutton masala evenly over the bottom of the vessel. Sprinkle the remaining chopped mint and coriander leaves. Spread the half cooked rice over the mutton masala completely..
Sprinkle lemon juice and ghee. Seal the vessel with aluminium foil from all sides. Place a lid on top of the foil and keep a heavy vessel over it such that the steam does not come out. Cook on low flame for 20-25 mins. Remove from flame. Remove the foil and fluff the rice gently and mix it gently making sure not to break the rice. Serve hot with raita of your choice..