Candy's Summer Salad. Great recipe for Candy's Summer Salad. I get so hungry for certain foods. Most of the time it is healthy, sometimes I crave not so healthy.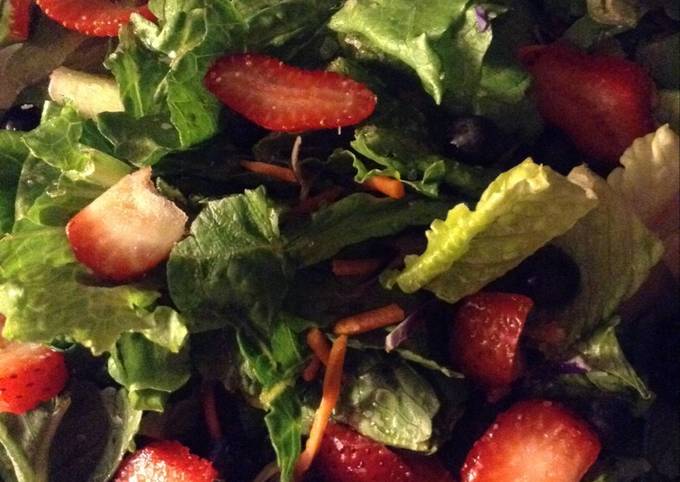 In a large salad bowl add in lettuce, chicken, blueberries, cheese, basil leaves, crumbled bacon, avocado and corn. Drizzle with the vinaigrette or serve salad and let your guests dress their own — up to you. Potato salad, pasta salad, macaroni salad, are all traditional summer side dishes. You can cook Candy's Summer Salad using 10 ingredients and 1 steps. Here is how you cook that.
Ingredients of Candy's Summer Salad
You need of I like to use Romaine chopped, (torn up by hand).
Prepare 1/2 cup of Blueberries.
Prepare 1/2 cup of Black Raspberries.
You need 3/4 cup of or more of Grapes halved.
It's of Olive oil.
Prepare of Red wine vinegar.
Prepare to taste of Salt and pepper.
You need of Shredded carrots.
You need of Finely shredded cheese.
Prepare 1 of red onion finely chopped..
But with the bounty of goodness, there are so many other summer side dish options. Snickers Salad made with vanilla pudding, Cool whip and crisp Granny Smith Apples. Chewy, creamy, tart and sweet, the perfect potluck summer dessert. Like our other popular creamy dessert salads (like Watergate Salad, Ambrosia Salad and Grape Salad), this "salad" won't disappoint your summer crowd.
Candy's Summer Salad step by step
Chop or tear romaine lettuce or your favorite lettuce Gently toss in Graphic halves, Sliced Strawberries, Blueberries, Raspberries, Add Shredded carrots, and finely shredded cheese. For my dressing I like to drizzle olive oil, and red wine vinegar. Dash of salt and pepper Fold gently to blend. My husband prefers Newmans Own Raspberry vinegrette Add your favorite Fruits veggies and salad dressing. This one is light and heathy.
Mix the apples, bananas, and chopped candy bars into the pudding mixture. Remarkably light and refreshing on a scorching summer day, this salad only needs white vinegar, white sugar, sweet onion, celery seed, salt and — you guessed it! — cucumbers. The best way to cool down on a warm day is with a chilled fruit salad. Serve this one for breakfast, brunch or dessert. Yogurt and coconut milk make the creamy dressing even more decadent.